With summer right around the corner, now is the perfect time to start thinking about how you want to decorate your outdoor space. If you have a canopy, you're in luck! A canopy can add a touch of elegance to any outdoor space. Whether you're setting up for a party or just want to add a little bit of decoration to your backyard, here are some tips and ideas on how to decorate a canopy or gazebo to look pretty.
How to Decorate an Outdoor Canopy or Tent
There are countless ways to spruce up your canopy or gazebo to look pretty and make it the perfect spot for entertaining guests or simply relaxing in the summer sun. Here are our favorite ideas:
Start with the Lights 
One of the easiest ways to decorate a canopy is to simply add some lights. You can use string lights, lanterns, or even fairy lights.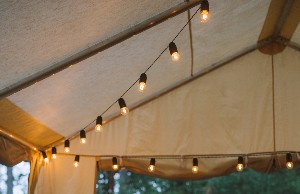 Whichever type of light you choose, make sure you hang them evenly around the perimeter of the gazebo so that they create a balanced look.
If you're using string lights, you can also drape them over the center of the canopy for added effect.
Banners and Bunting/Flags
A banner or some bunting/flags is a great way to add a splash of color to your canopy. You can find banners and bunting/flags at most party stores or online.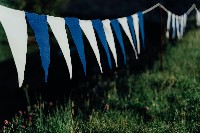 Just make sure to pick ones that are made of weather-resistant material so they'll last all season long.
Mason Jars
Mason jars are not just for canning anymore! These versatile containers can be used for everything from storage to decor. Use them to hold utensils, napkins, or even candles. Or, get creative and use them as vases for fresh flowers.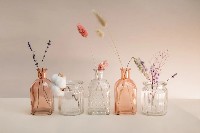 The possibilities are endless! Just make sure to put some sand or stones in the bottom of the jar to prevent it from tipping over in the wind.
Lanterns
Lanterns are a great way to add ambience to your gazebo. Whether you use traditional oil lanterns or battery-operated LED lanterns, they'll help create a warm and inviting atmosphere for you and your guests.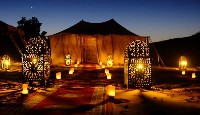 Just be sure to keep an eye on them, especially if you're using real flames. You don't want anything blowing away and causing a fire! You can even hang lanterns from the ceiling for an extra touch of whimsy.
Wind Chimes
Wind chimes not only look pretty, but they also help create a peaceful atmosphere. If you live in an area where there's often a breeze blowing, wind chimes can add a touch of music to your outdoor space.
Just be mindful of where you hang them so they don't get in the way of people walking under the canopy. 
Decorate your Canopy with Balloons
Balloons are always a hit with kids (and adults)! They can be used as decoration or as part of a game. If you're using them as decoration, try filling them with helium so they float up toward the top of the canopy.
Or, tie them down with ribbons of different lengths so they hang at different levels. Just be sure to keep an eye on them so they don't pop and startle anyone!
Add Some Greenery 
Greenery is always a good idea when it comes to decorating any space, indoors or out. You can hang plants from the corners of the canopy or place potted plants around the base.
If you want to get creative, you can even create a living wall by hanging planters filled with ivy or other trailing plants.
Just make sure that whatever greenery you use is appropriate for the amount of sunlight that will be hitting it throughout the day.
Incorporate Color 
Whether it's through pillows, tablecloths, or streamers, incorporating color into your canopy decoration is a great way to add some personality to the space.
Choose colors that complement each other and create a cohesive look. If you're not sure where to start, you can always go with classic combinations like blue and white or red and green. And don't be afraid to experiment – after all, it's your outdoor space and you should make it look however you want!
Complement your Canopy Décor With Soft Furnishings
One of the best things about having a canopy is that you can accessorise it with all sorts of soft furnishings to make it extra cosy. Think cushions, blankets and throws – anything that will make your guests feel at home.
If you're using the space for dining, you can also add placemats and napkins in coordinating colors.
And don't forget about the little touches like candles and vases filled with fresh flowers. These will help tie the whole look together and make your canopy feel like an extension of your home.
Use Foliage and Fairy Lights to Create a Magical Space
One of the best things about outdoor spaces is that they lend themselves so well to being decorated with foliage and fairy lights. This is a great way to create a magical, romantic feeling in your canopy.
Decorate Your Canopy Tent for Different Events
Whether you're looking to add some shade to your backyard barbecue or want to create a fun and festive atmosphere for a birthday party or baby shower, a pop up canopy or tent can help you achieve your desired look.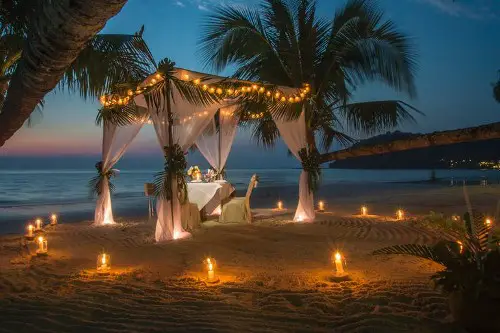 And with a little bit of creativity, you can use your pop up canopy or tent to decorate it for different events. Here are some ideas to get you started.
Baby Shower Tent Decoration
For a baby shower, hang pastel-colored streamers, you could also use white lights to create a warm and inviting glow. If you want to get really creative, you could even hang baby clothes from the ceiling!
Gender Reveal
If you're throwing a gender reveal party, you can use your pop up canopy or tent to add some mysterious flair. Hang a white sheet from the ceiling and drape it down over the front of the space so that guests have to enter through a "secret" entrance.
Then, when it's time to reveal the baby's gender, pull back the sheet to reveal balloons, confetti, or streamers in either blue or pink!
Birthday Party Canopy Decoration
For a birthday party, start by hanging colorful streamers from the ceiling. Then, add some fun props like banners and balloons to really make the space feel festive.
You could even bring in a disco ball or two to create an impromptu dance floor! And don't forget the birthday cake! Place it in the center of the room so that everyone can enjoy a slice.
Transform Your Pop Up Canopy or Tent Into a Backyard Movie Night Setup
Every summer, there are a few nights when the temperature is just perfect for spending time outside.
When those nights come around, why not turn your backyard into your own personal outdoor cinema?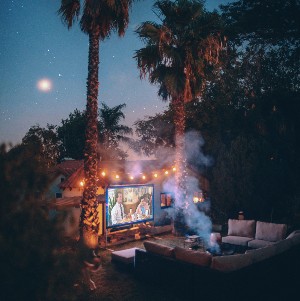 Use your pop up canopy, tent or gazebo, some lawn chairs or bean bags, and a projector. With just a little bit of creativity, you can decorate your gazebo into the perfect place to relax and watch your favorite film under the stars.
Whether you're wanting to watch classic films under the stars or new releases with family and friends, setting up an outdoor movie night in your backyard is a great way to do it!
So gather some snacks and drinks, invite some friends over, and enjoy an evening at home under the stars!
Final Thoughts on Decorating Your Pop-Up Gazebo or Canopy
With these tips in mind, you're ready to start decorating your outdoor canopy. Just remember to have fun with it and let your style shine through. And if you get stuck, there's no shame in asking for help from professionals – after all, they're experts in these things!
As you can see there are endless possibilities when it comes to decorating your outdoor canopy or pop-up gazebo. Just use your imagination and have fun!
Related article: More ideas on what are gazebos used for?