In just a short time, the summer will be here. And you know what that means? It's time to enjoy some gorgeous weather as much as possible. Whether you're looking to add value to your home property or simply want a new outdoor structure, a pergola is a way to go if you want an upgrade without breaking the bank. Thanks to their beautiful appearance and practicality, pergolas are worth every penny. A pergola can add value to your home and inspire you and your family to spend more time outdoors.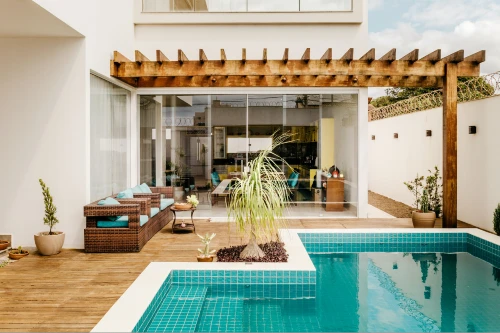 This means increasing the overall value of your home and providing countless benefits along the way.
Here are 10 reasons why pergola kits are worth it:
Are Pergolas Worth It?
Adding a pergola to your backyard can be a great way to increase your home's value. Not only will it make your outdoor living space more enjoyable, but it can also add to the resale value of your home.
If you ever decide to sell your home, potential buyers will be impressed by the addition of a pergola. It will show that you have made improvements to your home and that you take pride in its appearance. If you are planning on selling your home in the near future, then a pergola is definitely worth considering.
10 Reasons Why A Pergola Increase Your Home Value
Now, if you are considering adding one to your backyard, then these are definitely some points that you should keep in mind.
1) A Pergola Adds Value To Your Home Property
If you're looking to sell your home and want to increase its value quickly, investing in a pergola can help. Because of their practicality as well as their beauty, homeowners tend to pay more for homes with this type of canopy attached.
You don't need to go overboard on size or style either – simply find something that meshes well with the existing structure and you'll be set!
In short, pergolas can increase your home's overall value.
2) A Pergola Can Improve Your Home's Curb Appeal
Since this outdoor structure can serve as an extension of your home, having a pergola doesn't just add value to your home but also improves its curb appeal.
Of course, you'll want to choose a design that matches your home so everything looks aesthetically pleasing together.
3) Pergolas Can Increase Home Value By Increasing Outdoor Living Spaces
By increasing the outdoor living space with a pergola you can increase the value of your home significantly.
A well-designed pergola can significantly improve the overall look of your home's exterior which will result in increased value.
With a pergola, you can turn your backyard into an outdoor living space that everyone will want to gather in and enjoy the summers.
4) A Pergola Can Serve As An Outdoor Dining Space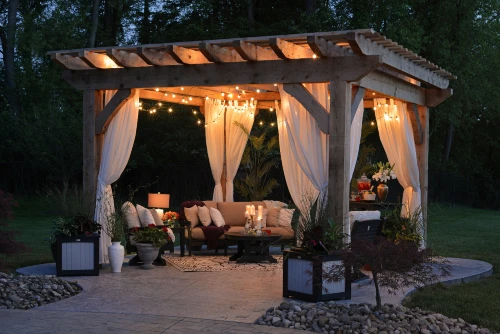 If you're not into cooking out or hosting casual backyard parties, an outdoor pergola can still be useful as an outdoor dining space.
Depending on the design and style of your pergola, you may even be able to fit couches and other bigger pieces of furniture so you and your family can enjoy meals outside on those nice weather days.
It is also a good idea to plan any social gatherings under this structure so you can host cookouts, parties, and other events with ease.
5) A Pergola Lets You Relax In The Shade And Enjoy Some Sunshine At The Same Time
An outdoor canopy made from wood or aluminum beams will provide enough shade for everyone to sit comfortably while enjoying the warmth of the sun during the summer months. This is one of the reasons why many people purchase pergolas for their backyard.
6) A Pergola Can Help Provide Shade 
Whether you're looking for some shade or simply trying to stay cool during the hot summer months, there's nothing better than a pergola overhead.
Depending on the type of structure you install, your pergola can offer cover from all elements of weather including sun, rain, snow, and ice – whatever mother nature has in store for us this year.
7) A Pergola Looks Great On Any Landscape     
An exterior pergola with decorative posts will stand out regardless of where it's placed in your yard or garden.
Everyone who passes by will be able to admire the overall beauty that the wood beams and ceiling provide – giving your home an entirely new level of sophistication.
8) A Pergola Provides An Excellent Setting For Outdoor Grilling
Having friends over for an evening cookout? Extend your home's living space by placing your grill under a pergola where everyone can relax around a fire pit after dinner.
It's just as inviting as having a covered patio for entertaining.
Read also: Best BBQ Gazebos
9) A Pergola Gives Your Backyard A Spa-like Feel  
If you're looking for a way to relax outside in complete comfort when summer rolls around this year, consider installing a pergola in your backyard especially if you are having hot tub.
This gives you the perfect covered outdoor space that makes it feel like you are sitting in a spa lounge or somewhere in the tropics.
10) Pergolas Can Make Your Outdoor Living Space More Inviting
Whether you're having a barbeque or hosting an outdoor party for friends and loved ones, it's comforting to have a covered outdoor space where everyone can gather at one place without getting wet or baked by the heat of the sun.
With everything from beam ceilings to sunroofs, there are many ways to make your outdoor living room beautiful.
Final Thoughts
Pergolas are a great thing to have in your backyard. They are beneficial for many reasons, including increasing the value of your home, enhancing the curb appeal of your property, and providing shade for those hot summer days.
A pergola can be used as an outdoor dining space or even an extension of your living room – no matter how you use it, you'll find that it's worth the investment.